Rugged Laptop
Fully Rugged / Semi-Rugged Notebook PC, ultra-thin and lightweight meets the outdoor durability with IP5X and MIL-STD 810G certification.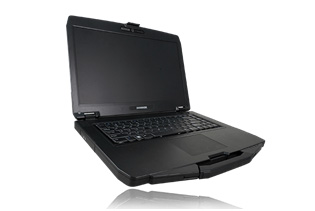 Fully Rugged / Semi Rugged Laptop
13.3, 14", 15.6" Diagonal Display sizes
Sunlight Readable
Intel® Core™ i7/i5/i3 Processor
Multimedia Bay & PCI/PCIe 3.0
Optional NVIDIA® graphic controller
Bluetooth® V5.0
Expansion Unit
Long-Life Battery up to 16 hours
Military Certified MIL-STD-810 / 461E
Rugged Tab
Rugged industrial tablet PCs support either Windows or Android operation systems. These tablets allow for convenient access to data, communication and information in a portable format. Our rugged computing designs make these devices suitable for use in the most demanding of conditions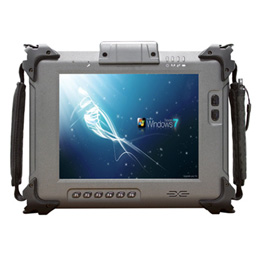 Rugged Tab up to 11.6" display sizes
Active Matrix Sunlight-readable Touch Panel
Ultra Low Power Consumption
Fully Rugged for Mobile POS/Warehousing/Vehicle Computer Application
Meeting MIL-STD-810F, Whole Machine IP54 Grade, 6 ft. Drop Resistance
High Mobility, Multi-network Connectivity (Bluetooth/WLAN/HSUPA 3.75G/GPS)
Multi-identification Devices (Barcode, RFID)
Hot-swappable Redundant Dual-batteries
Rugged PanelPC
Rugged Panel PC's are built with industrial grade components providing a high-performance all-in-one computer solution for demanding applications throughout many industrial, military, aviation, marine, and manufacturing environments. Engineered for real world operations, these panel mount computer systems are highly customizable and available with many additional features including: bezel mounting options (clips, pass-through holes for shock and vibration resistance, custom mounting stud patterns), fanless designs, high bright sunlight readable LCDs, standard or wide screen formats, optical bonding (VBOND), EMI protection, wide operational temperatures, shock & vibration resilient components, and even Class 1 Division 2 certification.
Standard Brightness for 19" Rack Cabinets

17.0" | 19.0" | 20.1"

High Bright Sunlight Readable for 19" Rack Cabinets

17.0"

Wide Format Standard Brightness 1080P for 19" Rack Cabinets

17.3"

Wall Mount All-In-One Computers

15.0" | 19.0" | 24.0"
VME SYSTEMS
Intel® Core i7, Atom and NXP (formerly Freescale) QorIQ 6U VME Single Board Computers (SBCs), carrier cards, and rear transition modules (RTMs) for embedded computing applications. With both conduction- and air-cooled boards available, these products can be applied to a wide variety of embedded applications across military, communications, and commercial/industrial markets.
6U VME Single Board Computers (SBCs) are ideal for ruggedized systems that require high-bandwidth processing and low power consumption. With up to 24 GB of DDR3 memory, 10 Gigabit Ethernet, Gigabit Ethernet, USB, SATA, serial, and more, these feature-rich boards are sure to be an excellent solution for your project
6U VME64x Blades with latest Intel & PowerPC Processors
6U VME RTMs
6U Enclosures & Systems
6U VME Carriers
6U IO & Peripheral Cards
OpenVPX SYSTEMS
VPX development solutions to help customers reduce technical risks, development time and costs. TheVPX Starter Kit provides the necessary hardware and standard BIOS/firmware for system verification, board-to-board communication validation, and software compatibility testing.
We offer complete VPX based turnkey system solution in 3U and 6U combinations along with IO's like ADC, DAC, DIO, Serial, FPGA, GpGPU, 1553, ARINC, etc..